Brock Yates' One Lap of America is, without a doubt, the toughest open road event in the United States. Void of fancy hotels, lifestyle journalists and swanky "look-at-me" types, One Lap is the last bastion of competition for the world's most die-hard petrol-heads looking for an adventure. We're talking about 11 racetracks in eight days; over 3,500 miles of transit legs; breakdowns and roadside food that's been known to make the human body do things science still can't comprehend. It's not for the weak, timid or those with thimble size bladders. Instead it's made up of some of the greatest automobile enthusiasts you'll ever meet who's only goal is to race, drive, rinse and repeat.
We had done the event twice already and decided to come back for a third time with One Lap first-timer and AutoNation writer, Greg Fink. AutoNation was a title sponsor of this year's event, and Dodge was kind enough to provide Team AutoNation with a 2015 392 Challenger R/T Shaker Scat Pack and a 2015 Durango R/T as a support vehicle.The Durango R/T was strictly a media vehicle used for gear, luggage and members of the One Lap media circus. The Challenger, however, needed to pull double-duty as our track car and mobile WiFi hotspot for the duration of the event.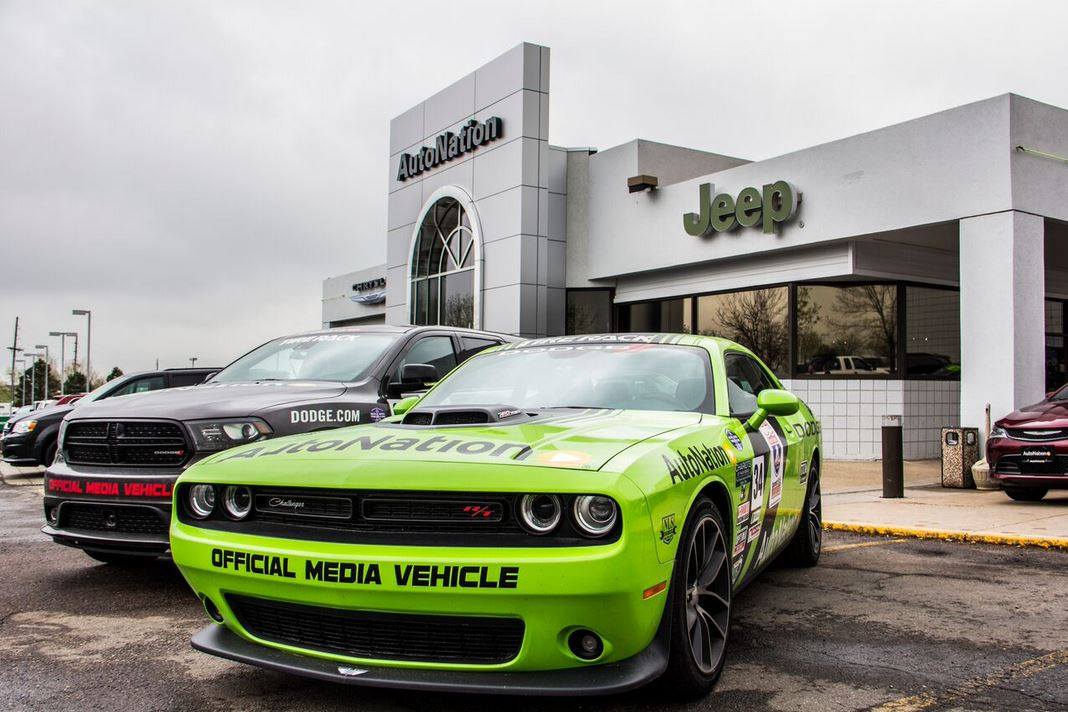 Over the years, we've clocked thousands of miles in Dodge vehicles. Tested Hellcats at over 180 mph, drifted SRT Chargers at Mazda Raceway Laguna Seca and even ran a classic 1968 Dodge Charger on the One Lap of America some years ago.
The Dodge Challenger is an amazing road car regardless of its configuration. Its large, stable and has a long wheelbase, equaling a long-distance driving experience that's hard to beat. Its refined American muscle with the heart and soul of a Detroit iron worker. Imposing, brash and in your face, the Challenger also has all the elegance and modern conveniences one could ever want. We're talking 485 hp and 475 pound-feet of torque from the 6.4L 392 HEMI, a new ZF 8-speed automatic transmission with paddle shifters and three different drive modes (Normal, Sport & Sport +).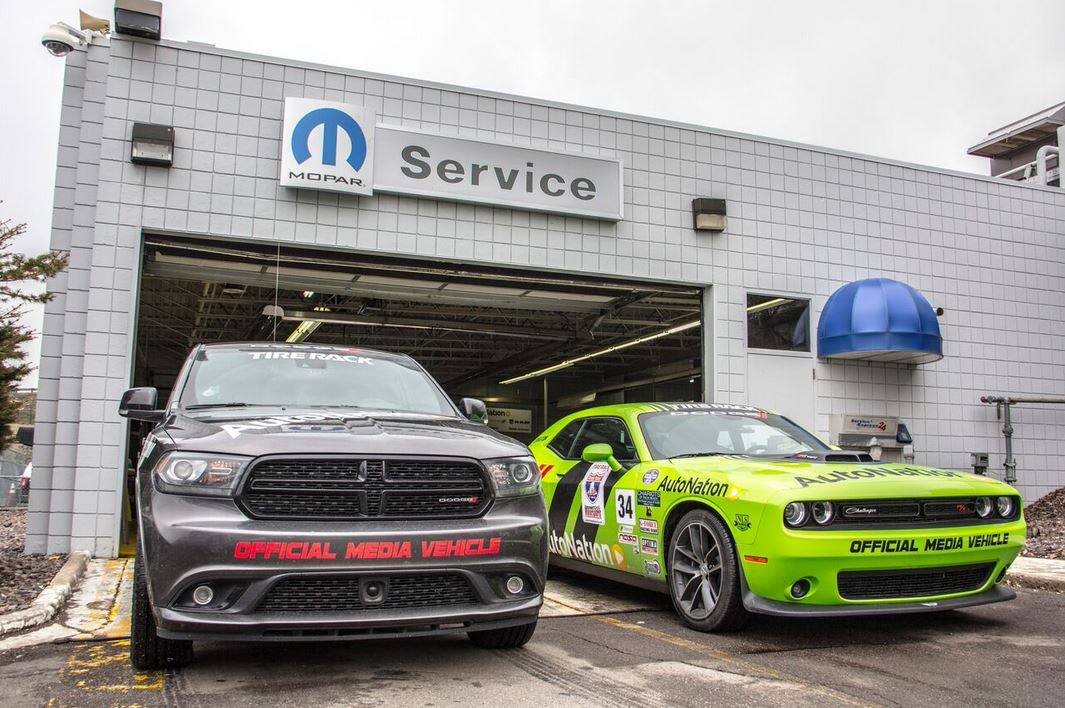 Out of the gate, handling characteristics are much better than you'd expect from a car running on a 116.2-inch wheelbase and weighing in at just over 4,000-pounds. This is not a race car, but set it up properly in a corner and it's amazing how competent the Scat Pack suspension is. Truth be told, we just weren't expecting the well-rounded Challenger to deal so well with everything we threw at it over the course of our approximately 3,800-mile test drive.
The only incidents we had with the car involved tire damage. We picked up a nail in one tire shortly before the start at the Tire Rack Wet Skid Pad in South Bend, Indiana. Then in Colorado we noticed the left rear tire on the Challenger was low, and upon further inspection we found what appeared to be a screw embedded deep in the tread. But here's the thing. As luck would have it, we were on our way to Denver, Colorado where there are no less than Four AutoNation Chrysler stores! The distance was only about 65-miles; however with some ominous clouds ahead, the last thing we wanted was to be stuck on the side of the road waiting for a tow. We managed to get the Challenger to the nearest AutoNation Chrysler Dodge Jeep RAM store, where we found a service department that was immaculately clean. Meanwhile, the technicians who worked on the Challenger couldn't have been more accommodating during our impromptu pit-stop.